It's our fourth year and we are open for entries.
I started this event as a 'one off' but I and those who help me all agreed we should do it again and now here we are on our fourth event. We are now a well- oiled team and can assure you we have a very well planned day for you all. The event is now listed on the British cycling website.
Our new entries secretary's Ian and Rachel have the entry forms in 'Word' ready to ping off by email for you to fill in and send back to them by email. You can also find entry forms and more information on this site here as well as donate directly. You can also just bring your donation along on the day if this is easier. So three ways to enter and three ways to donate should make it simple for everyone.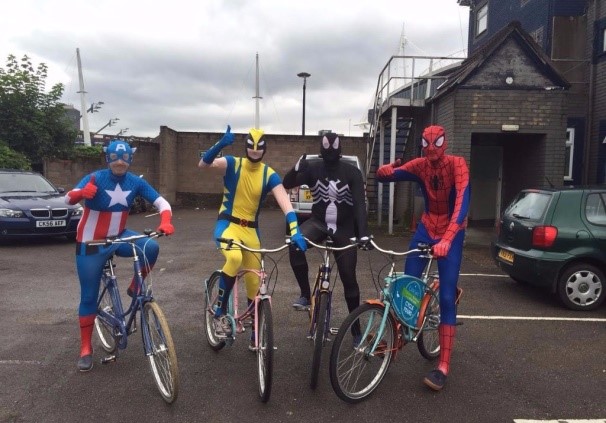 This sportive is open to all. We welcome 'the dead keen' and 'the family day outers.' The 'tandem duos' and the 'dressed to impress' brigade. We welcome tricycles and electric bikes. You can bring an observer if you like and no you won't need a gas mask because it's all quiet country lanes. So please tell all your family, friends and workmates who have a bike and persuade them to come along! 
New Signage
We now have all the signage we need with loads of arrows to mark the way and warning signs for hazards ( of which there are few). We have banners to promote the event which will be deployed in March. 
New Catering
We have new catering arrangements in place and so the barbeque will be doing bacon baps with chutney until mid-day. We have a much bigger team doing cakes this year and so we can guarantee plenty of choice at the halfway stations. The barbeque will then open at one o'clock and be serving the usual high quality sausages and burgers from our local butchers with salad, chutney and veggie options also available. Tea coffee and soft drinks on tap all day. The event and the bar closes at Five o'clock
Saturday April 13th 2019, 8-30am start

hope.sportive@gmail.com
Cheers, Ron.